Last Week In PlayStation #20 | Mobile Dev Savage Game Studios Acquired By PlayStation, Sony Invests In FromSoftware's Parent Company, And September's PS Plus Games Revealed
Hello and welcome to the twentieth edition of Last Week In PlayStation, the weekly PlayStation newsletter here on platyview.com. 
Publishing every Monday evening India time (early evening Central European time and late morning Pacific time), the series will round up all of last week's PlayStation news and other happenings into one single article. 
This edition will cover all PlayStation news from 29th August '2022 to 4th September '2022.
Well guys, the streak is over. 1 week on time and that was it. I am back to being a day late. Maybe I should switch the publishing day to Sunday so the article will come out on Mondays like it should. 
Here is what went down in the world of PlayStation last week. 
Mobile Developer Savage Game Studios Acquired By PlayStation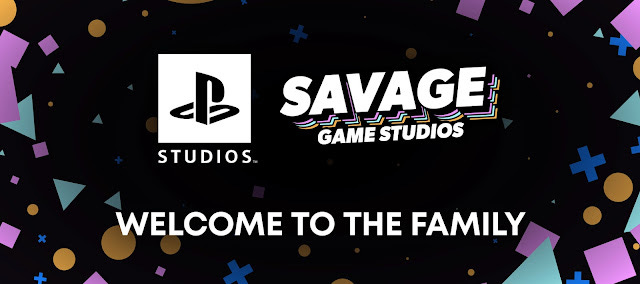 Source: PlayStation Blog
Last week, head of PlayStation Studios Hermen Hulst took to the official PlayStation Blog to announce the acquisition of a brand-new team: Savage Game Studios. The developer has 'years experience of making some of the most popular mobile games' on the market. 
Hulst notes that PlayStation and Savage 'share [the] tireless ambition to innovate, along with a continued drive to expand our audience and bring PlayStation to more people than ever before.' The team will also be joining PlayStation Studios, the umbrella of first-party developers under Sony Interactive Entertainment. 
Michail Katkoff, CEO and co-founder of Savage Game Studios, then talks about his team and why they chose to join PlayStation:
Established in 2020 and led by myself and fellow Co-founders Nadjim Adjir and Michael McManus, Savage Game Studios was born of our many years of mobile game development experience spanning a number of massively successful global IP. Our guiding vision was a creative space where experimentation and taking risks weren't warily avoided, but rather eagerly embraced. We've all worked at big studios and while we respect the advantages of ample resources, we wanted to stay small and nimble so we could call our own shots. 
"So why then," you may be thinking to yourself, "would you join PlayStation Studios?" We made this deal because we believe that PlayStation Studios' leadership respects our vision for how we can best operate and succeed, and because they too are not afraid to take chances. All of that, plus the ability to potentially tap into PlayStation's amazing catalog of IP and the fact that we will benefit from the kind of support that only they can provide… The harder question to answer would be "why not?"
The blog post wraps up with a reassurance to PlayStation fans that the company's 'efforts beyond console in no way diminish our commitment to the PlayStation community, nor [their] passion to keep making amazing single-player, narrative-driven experiences.' Hulst notes that Savage will be 'joining a newly created PlayStation Studios Mobile Division, which will operate independently from our console development and focus on innovative, on-the-go experiences based on new and existing PlayStation IP.'
We also learnt that the studio is working on a 'new unannounced AAA mobile live service action game.' What that entails, we don't know yet. Regardless, Sony's push out of the confines of the console space and into the greater gaming ecosystem is more profound now than ever. We'll have to see if any worthwhile fruits are born out of this labour.
Sony Furthers Investment In FromSoftware's Parent Company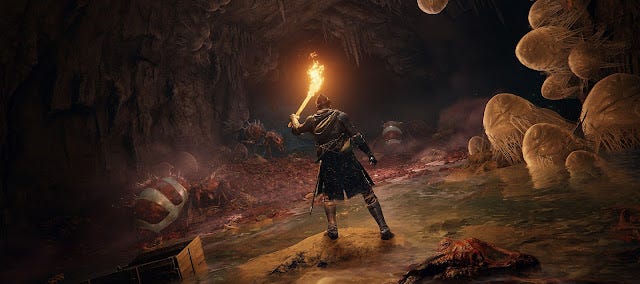 Source: PlayStation
Back in February of last year, Sony acquired 1.93% of Japanese media conglomerate Kadokawa Corporation - the parent company of Dark Souls, Bloodborne, Sekiro, and Elden Ring developer FromSoftware. Now, VGC reports that Sony has bought another 12.16% of the company, bringing its total share percentage to 14.09. 
Kadokawa notes that it 'recognises the enhancement of capabilities for the creation, development and deployment of game IP as one of the Group's highest priorities.' Therefore, it has allowed FromSoftware to 'arrange a "third-party allotment" in order to gain extra funding that may help it publish its own games globally.'
FromSoftware has a history of using third parties like Bandai Namco and Activision to publish games outside of Japan, with the team internally handling their games' releases in their home country. This move would allow FromSoftware to hold on to the IP it creates, and after losing out on the ownership of the mega-hit Elden Ring to Bandai Namco, Hidetaka Miyazaki and team would not want to make the same mistake again. 
As for Sony, this seems like a smart move. FromSoftware is one of the biggest independent developers in the industry, and getting in bed with them without actually buying them outright seems like a tactical move by Jim Ryan. It's in Sony's best interest for FromSoft to do things themself, which opens the door for close collaborations with PlayStation in the future.
Along with Sony, Chinese company Tencent also increased its stake in Kadokawa, reaching 16.25% ownership. This leaves Kadokawa with only 60% of its company in its own hands, with the other 30% split almost evenly between Sony and Tencent. 
September's PS Plus Games Revealed: Essential, Extra, And Premium At Once!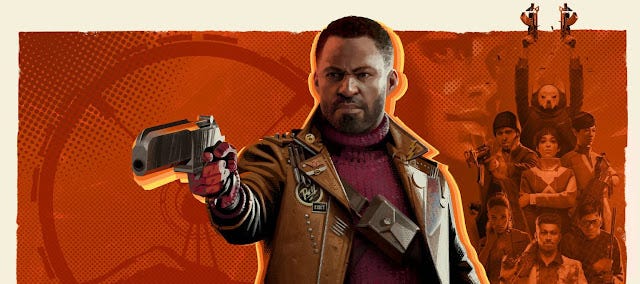 Source: PlayStation Blog
Since PS Plus got revamped in June, the launches of its Essential tier's monthly games and the main Game Catalog releases were split between the start of the month and the middle of it. While that is still the case, the PlayStation Blog has revealed the entire list of this month's games at once, including the 3 Essential games as well as the ones coming to Extra and Premium. 
The 3 games coming to PS Plus Essential in September are:
open-world racing game Need For Speed Heat (PS4)

fighting game Granblue Fantasy: Versus (PS4)

isometric indie noir photography Toem (PS5)
This month's Game Catalog titles for PS Plus Extra subscribers are:
Deathloop (PS5)

Assassin's Creed Origins (PS4)

Watch Dogs 2 (PS4)

Dragon Ball Xenoverse 2 (PS4)

Spiritfarer: Farewell Edition (PS4)

Chicory: A Wonderful Tale (PS4)

Monster Energy Supercross - The Official Videogame 5 on (PS4, PS5)

Alex Kidd in Miracle World DX (PS4)

Rabbids Invasion: The Interactive TV Show (PS4)

Rayman Legends (PS4)

Scott Pilgrim vs. The World: The Game – Complete Edition (PS4)
This month's Classics Catalog titles for PS Plus Premium subscribers are:
Syphon Filter 2 (PS1)

The Sly Collection (PS3)

Sly Cooper: Thieves In Time (PS3)

Bentley's Backpack (PS3)

Toy Story 3 (PSP)

Kingdom of Paradise (PSP)
And the cycle repeats itself once again. The games coming to the Extra tier are good, but the games coming to the Premium tier leave more to be desired. Another Syphon Filter and all the Sly games seem to be a sign of good things to come in the future though. 
The blog post also reveals that Stray, Ghost of Tsushima, Marvel's Spider-Man: Miles Morales, and Assassin's Creed Valhalla are 'some of the top games played so far on the PS Plus Game Catalog. 
The monthly PS Plus Essential games are available to claim and download from September 6th, while the Game and Classics Catalog titles surface on September 20th. 
Other Bits And Pieces: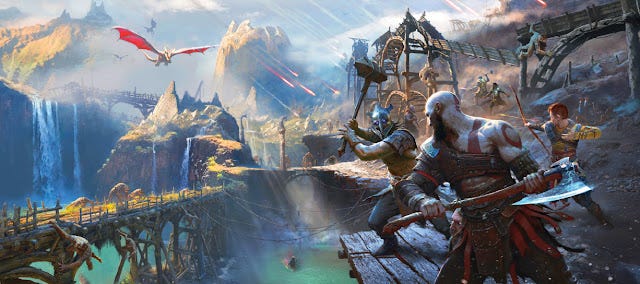 Source: GameInformer
GameInformer has gotten exclusive access to God of War Ragnarok for their cover story this month, which means we get a bunch of new info about the game. So far, we have gotten two pieces of content: a look at the game's combat and a sneak peek at the game's Dwarven Realm Svartalfheim level. We may get an official look at Ragnarok during a potential State of Play or PlayStation Showcase, but there's no certainty about that happening. 



The Verge reports that back in January, Xbox 'provided a signed agreement to Sony to guarantee Call of Duty on PlayStation, with feature and content parity, for at least several more years beyond the current Sony contract, an offer that goes well beyond typical gaming industry agreements.' Word comes via green-team boss Phil Spencer, who said so in a statement to The Verge. Xbox also previously conveyed its commitment to keeping Call of Duty on Sony's systems. It looks like COD will stay on PlayStation for the next few years, but Spencer's phrasing leaves the door open for possible Xbox and PC exclusivity when it comes to Activision's mammoth shooter.



IGN brings word that during a CEDEC 2022 talk by SIE's Yasuo Takahashi and Kenjo Akiyama, it was revealed that PS VR2 'has been designed to make it easier for developers to create VR versions of PS5 games, as well as port games to PSVR 2 from other VR platforms.' This is great news considering one of the PSVR's main negatives was the lack of big-name titles with VR versions. IGN's article goes into more detail about these improvements to the development process, so check that out if you're interested.
And that's all for this week's edition of Last Week In PlayStation. This is the 20th (not gonna lie, I never thought we would get here) issue of this series that I patch together every week, and I am so happy it has worked out. Thanks for reading every week for the last twenty, and I look forward to speaking with you again after the next twenty when my head is balding and the skin is peeling off my fingers. Shudder! 
Anyways, thanks so much once again. You guys are the real ones! See you next Monday! Bye!