Last Week In PlayStation #18 | Team Asobi's Next Game To Feel Japanese And Be Its Biggest Yet, PS4 Has Sold Twice As Many Units As Xbox One, And A Days Gone Movie Is Reportedly In The Works
Hello and welcome to the eighteenth edition of Last Week In PlayStation, the weekly PlayStation newsletter here on platyview.com. 
Publishing every Monday evening India time (early evening Central European time and late morning Pacific time), the series will round up all of last week's PlayStation news and other happenings into one single article. 
This edition will cover all PlayStation news from 15th August '2022 to 21st August '2022.
Once again, I am a day late. So let's just move on, shall we? Here is what went down in the world of PlayStation last week.
Team Asobi's Next Game To Feel Japanese And Be Its Biggest Yet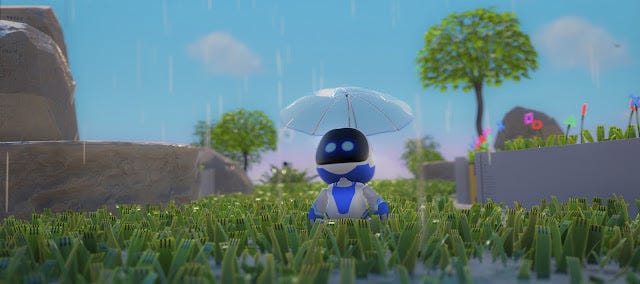 Source: PlayStation
Last week, GamesIndustry.biz's Cristopher Ding published an interview with Studio and Creative Director at Team Asobi, Nicolas Doucet. The interview brings to light various new details about the team and its upcoming game. Here are the major ones, and, as usual, head on over to the interview to read the full story. 
First off, Team Asobi has now grown to 'more than 60' employees' strong. When Sony Japan Studio was shut down in early 2021 and Team Asobi become an individual PlayStation Studio, the headcount was only 35. Going forward, 'Doucet expects that number to reach around 100 people.' 
It also seems like Team Asobi has a major focus on research and development (R&D):
"Probably like 90% of the studio is on production, but there is this small pocket of people in the background that are already touching the technologies of tomorrow, or trying things with the technologies we have today, but taking them into a new direction. In order to keep this freshness, this R&D team needs to be rotated quite often. People go into production, and then after that maybe go into R&D for some time."
In the interview, Ding writes that 'Team Asobi's next project will follow in the footsteps of the games it has done before, but will be a full-blown commercial title, "and [their] biggest to date." They also want the game to have a certain Japanese feel. 
Doucet points out that 'what makes a game "Japanese" isn't so much the genre, or the visual style, but rather it's around how a game feels.' Their goal is for players to feel, or know from the inside, that the game is from Japan with love. 
The main focus point of Astro's Playroom on PS5 was its use of the DualSense controller, with Doucet calling the new controller 'a "special weapon" for the team', and noting that they will continue to experiment with it going forward. 
"Team Asobi's name comes from 'Asobu', which is the Japanese verb 'to play. [With our name] it was decided that we should have a reminder that everything that we do, we do it for the fundamental fun of play. It's not just games. It's bigger than that. It's 'play' with a capital P. It's that thing where everything you do gives you pleasure, and makes you feel good."
PS4 Has Sold Twice As Many Units As Xbox One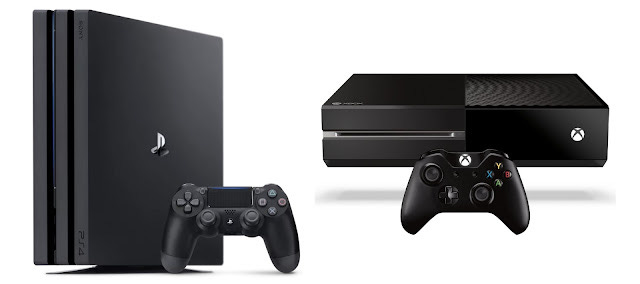 Source: PlayStation and Amazon
Website GameLuster reports that Sony's PlayStation 4 has sold more than twice as many units as Microsoft's Xbox One. Word comes via court documents from Brazilian regulators' ongoing investigation into the Activision Blizzard acquisition.
This information 'can be found on page 18 of the Microsoft court papers dated Aug. 9, 2022.' The text is in Portuguese, but GameLuster notes that translated, it reads: 
"Sony has surpassed Microsoft in terms of console sales and install base, having sold more than twice as many [than] Xbox in the last generation."
Sony's final PS4 sales figures put the console at 117.2 million units sold. This would mean the Xbox One's sales figures lie somewhere below 58.6 million units. For comparison, the Xbox 360 sold around 85 million units.
GameLuster notes that 'Microsoft has been refusing to release console sales information since 2015, claiming it isn't the "key metric of success" they like to focus on.' Instead, they prefer to talk about engagement, often citing "number of players" instead of "units sold" for its games. 
It was no secret that the Xbox One sold softly, but now we finally have word from the horse's mouth about just where the console ended up in terms of units sold. 
A Days Gone Movie Is Reportedly In The Works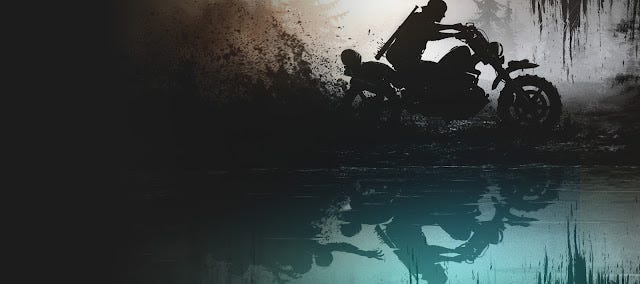 Source: PlayStation
Ladies and gentlemen, we have word about a new PlayStation movie in the works. Film industry publication Deadline reports that 'PlayStation Productions is developing the feature rendition of Days Gone.' 
Sam Heughan, who starred in the TV show Outlanders and most recently 2021 movie SAS: Red Notice, is reportedly leading the line to play Deacon St John - the game's protagonist who looks to be taking up centerstage in the movie too. As to the screenwriter, Deadline notes that it may well be 'Oscar-nominated scribe Sheldon Turner.'
Deadline points out that 'Turner's script will be a love ballad to motorcycle movies — the bike being Deacon's sole form of transportation, his horse in this would-be modern-day western.' 'Jennifer Klein and Turner are producing through their production company, Vendetta Productions. Asad Qizilbash and Carter Swan are producing for Sony PlayStation Productions.'
I am all in for Sony making more PlayStation movies and/or TV shows. I really enjoyed watching Uncharted, and as long as these adaptions don't step on the games' toes, I would love to see more of them. Right now, in addition to this Days Gone project, we know about:
TV Shows- The Last of Us (HBO), Twisted Metal (Peacock), God of War (Amazon Prime Video), and Horizon 2047 (Netflix)

Movies- Ghost of Tsushima, Gran Turismo, Jak & Daxter
While I would like to see more movies than TV shows, I'm up for whatever we get. But, what I don't understand is why Sony would decide to make a movie based on a game whose sequel was not given the green light. It just seems odd. Unless... well never mind.
We certainly have not seen the last of this reported Days Gone movie yet, but I am going to go out on a limb and say we have not seen the last of Days Gone as a game either.
Other Bits And Pieces: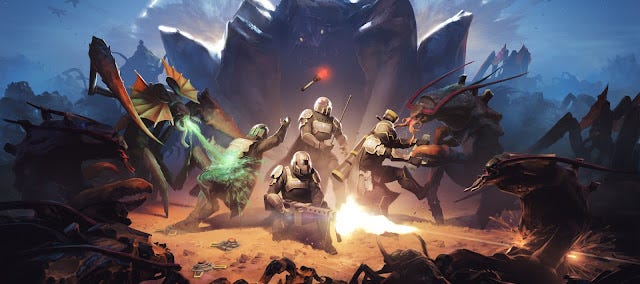 Source: PlayStation
Ten seconds of footage from an unreleased Helldivers 2 trailer leaked online last week, courtesy of @DoodMarvelous on Twitter. The clip was then taken down due to a copyright strike, which essentially confirms the leak's legitimacy. Helldivers was a 2015 top-down coop shooter developed by Arrowhead Games and published by Sony. The game did well and was the OG PlayStation exclusive to come to PC. Helldivers 2 has not been officially announced, but with no game released since 2015, it was no secret that this sequel was being worked on. The leaked footage confirms that the game is coming to PS5, but we can expect it to make its way to PC at a later date. As to when we will see this game be revealed, it's an open guess. Maybe at PlayStation's inevitable 2022 showcase? Or maybe through a simply trailer drop on YouTube/the PlayStation Blog? What we know for sure is that Helldivers 2 is coming, and PlayStation is backing Arrowhead's project once again.



Marvel's Spider-Man may have had a multiplayer mode. Word comes via @dnwinetamp on Twitter, who found references to 'co-op', 'players 1 & 2', and a quick chat in the game's PC port. VGC also dug through the PC port's files and has some more details about this scrapped game mode. It seems like this mode would have allowed 'a second player to take control of Miles Morales along with his unique loadout abilities in various activities.' There would have all been a PvP and a 'free-for-all' PvE mode. The mode would have been separate from the single-player content, however. 'According to the game files, it would not be available from the beginning of the game, meaning the player would have to unlock this mode or possibly download it as additional content.'



Here is something hilarious. Death Stranding, a second-party PlayStation game whose IP is owned by Sony, is now available on PC Game Pass. Here is how it happened. Even though Sony published the game on PlayStation, its PC version was published by 505 Games. It looks like Sony handed over all rights to game on PC to 505, leaving them free to strike a deal with Microsoft. On one hand, this looks like an embarrassing loss for Sony and their negotiating ability, but it's also really cool to see how complex deals in the industry can lead to crazy things happening. However, it may also indicate Sony's disappointment in Death Stranding's reportedly softer than expected sales. For what it's worth, I am sure Kojima is chuckling as he sees the internet lose its minds over this move. 
And that's all for this week in PlayStation. A day late again, I apologize for that. Thanks for your patience, and for reading the stuff I try my best to write well. Until next time, goodbye!